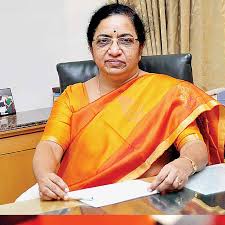 Bank of India is planning to set up a subsidiary dedicated to social work, a first among its domestic peers. Amid increasing competition, the public sector lender is trying to consolidate the credit portfolio, cut expenses and focus on fee and treasury income to stay profitable. The bank is focusing on bringing down stressed assets by strict monitoring and faster resolution of cases. Vijayalakshmi Iyer, chairperson & managing director, tells Manju AB how she is steering the bank out of its bad debt problem by personally attending to large accounts. Excerpts from the interview:
What is driving business at Bank of India? With credit growth being at a decade low, how will banks beat the trend and still stay profitable?
The growth has been very low in tune with the industry trend post March 2014. This actually provided an opportunity to consolidate credit portfolio and to put more resources for monitoring mechanism. These efforts will result in lower credit cost and will improve profitability. With more focus on timely resolution of stressed assets, the profitability will, in fact, improve.
When do you expect corporate credit to pick up? And which sectors do you see reviving faster than others?
There has been slowdown in corporate credit demand. Many steps are being taken by the government to enable economic growth to assume faster pace. With pro-growth environment being created, we expect credit growth to pick up by the end of third quarter of the current fiscal. We expect pick-up in SME sector to lead.
How is the retail credit growth?
Notwithstanding lower corporate demand for credit, the retail sector continues to grow resulting in better balancing of portfolio. Focus on agriculture, retail and MSME is driving the business. Widespread geographical spread of branches is helping us growing in these sectors. During the first half of this fiscal, schematic retail loan has grown 12.21% from Rs 21,982 crore as on March 31, to Rs 24,665 crore as on September 30. The growth is 28 % year on year (Rs 19,284 crore to Rs 24,665 crore). Home loan growth has been 31% on a year-on-year basis (Rs 11,400 crore to Rs 14,913 crore). Home loan and LAP constitutes 74% of schematic retail loans as on September 30, 2014 (home loan Rs 14,913 & LAP Rs 3,424 crore). Total retail loans (personal loan segment) of the bank stood at Rs 29,654 crore as on September 30, 2014. Considering the growth pattern in the earlier years, we expect about 40% growth in retail loans during 2014-15.
What will be the key driver of your profits during the current quarter?
The deposit rates have softened in the absence of demand for credit. This will help in achieving lower cost of fund and better "NIM' (net interest margin). Initiatives have been taken to curtail operational expenses as well as to increase non-interest income. All out efforts are being made to achieve lower credit cost by improving monitoring process and also by achieving speedier resolution of non-performing assets. There are two major sources of fee income, in addition to general banking services including remittances, etc. That is (1) business related to credit portfolio and (2) fixed income portfolio. Given the softening of yields on fixed rate bonds, we do expect gains on that account to contribute to our profits.
How are your deposits growing? Any specific campaigns to mobilise CASA (current account savings account)?
It is desirable to match growth in deposits to growth in credit business. Given that demand for credit has been muted, the deposit portfolio is registering slower growth in keeping with opportunities for deployment. We are placing thrust on CASA business and special drives are being arranged across the country to expand the customer base further. Technology related initiatives are being implemented to make banking more customer friendly. The government business is also being expanded with a view to increase CASA portfolio.
How is the joint lending forum (JLF) helping the bank combat the rise in bad loans? Is the JLF being implemented in all earnestness with co-operation from all banks?
Joint Lending Forum (JLF) has been helping the banking system in early resolution of stressed accounts as RBI guidelines warrants time bound rectification process by all banks if majority of banks (75% in value and 60% in numbers) agree for any of the three options available, that is rectification, restructuring or recovery. The implementation of corrective action plan under JLF route has almost stabilised barring addressing of few issues like short period available for implementation of restructuring under CDR
on-CDR route.
Asset reconstruction companies (ARCs) say banks need to give bigger discounts for sales to happen. What has been your experience?
In fact, the role of ARCs is very important in faster resolution of stressed assets. We feel that ARCs need more capitalisation to meet the revised norms of payment of cash up-front of 15%. Admittedly, with higher cash up-front, the ARCs will have more commitment, which will lead to even faster resolution. Bigger discounts on sales will force banks to have bigger hit to their P&L.
Now social media networks like Facebook and Twitter are attempting at money transfers, printing cheque books, etc. Is there any threat to traditional banking from these alternate channels?
There is no question of threat. Innovations in technology are always welcome as they help in achieving higher level of efficiency in providing banking services. It is desirable to remain aligned with evolving technology. We have focus on IT enabled services to ensure that our customers have access to state-of-the-art technology. We were the first PSU bank to introduce first ATM long back in the country. Recently, we introduced cash remittance through ATM to non customers without use of ATM card. It has received good response. Most of our ATMs are now enabled to provide this service of Instant Money Transfer (IMT).
Banks are planning to sell off their non-core assets to streamline the organisation What would be your non-core assets that you might put on the block?
We do have strategic investments and keep reviewing the same from time to time. It is always desirable to realise gains on such investments to augment capital. It is a continuous process.
You had plans of setting up a wholly owned subsidiary for corporate social responsibility. What has been the progress of that?
With a view to have consistent approach for achieving our corporate social responsibility objectives, we have proposed formation of a trust. We have approached appropriate authorities for approvals. We are expecting approvals soon.
Will you have to raise money for Basel III compliance? Will you give some details on the fundraising plans of the bank?
We need to strengthen our capital structure to ensure consistent growth while maintain the desirable levels of capital adequacy. This is a continuous process. We are observing capital market developments very closely and have plans to raise capital at an appropriate time.
Finally, how is Jan Dhan scheme faring and how much of deposits in these accounts if at all have you collected?
Our bank has opened 28.82 lakh accounts from August 16 to October 16 under Jan Dhan scheme and collected Rs 70.07 crore deposits. The scheme is in full swing by means of carrying out household surveys in all the allotted Sub Service Areas (SSA) and wards which is expected to be completed by October 31.Number of RuPay Cards issued by our Bank so far is 17.94 lakh. The backlog is expected to be cleared by November 15. Aadhaar seeding and opening of accounts through e-KYC is picking up and we have seeded 23.48 lakh accounts and opened 11,716 accounts through e-KYC so far.
Have you also rolled out Swachh Bharat campaign?
In this national endeavour, BOI has committed Rs 4 crore for construction of toilets in government schools. The project will cover 85 girls secondary schools in Jharkhand. List of schools and districts covered in the state has already been conveyed to finance ministry, and ministry of HRD. Implementation will be done through local agencies in coordination with BOI zonal offices situated in Jharkhand.